#NowMoreThanEver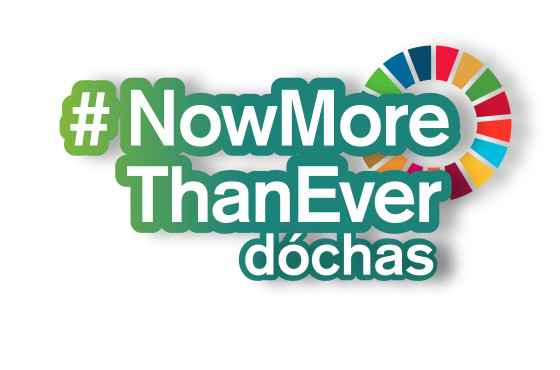 In the run up to Budget 2022 we are asking our supporters to take action to show the Government that global solidarity is needed #NowMoreThanEver
Dóchas Pre-Budget Submission 2022
Dóchas, the Irish Association of Non-Governmental Development Organisations, calls on the Irish Government to act now on its commitment to reach the target of spending 0.7% of its GNI on Official Development Assistance (ODA) by 2030.
In Budget 2022, funding to ODA is needed #NowMoreThanEver if we are to show global solidarity in the wake of the triple crisis caused by the pandemic, climate change and conflict. The Sustainable Development Goals (SDGs) remain a critical roadmap to allow Ireland to meet these complex challenges in partnership with the EU, the UN, Irish NGOs and other critical partners. We must act now so that no-one is left behind. We must act now because no-one is safe until everyone is safe. We welcome the Programme for Government commitment in 'Our Shared Future' to reach the internationally recognised target of 0.7% spend of GNI by 2030. To make this ambition a reality the Government needs to increase the pace by committing to reaching 0.5% over the course of its tenure to Budget 2025.
We are also encouraged by the Irish public's continued support for Official Development Assistance, and their recognition that the work of Irish NGOs makes a huge difference to people's lives and to local communities. It is this strong global solidarity that gives Ireland a platform to punch above its weight on development, humanitarian and human rights issues. It is part of who we are and the kind of society we want to be.
Our 5 Key Asks
How our Members Can Support the Campaign
As a member we are asking you to be part of the campaign over the coming weeks by sharing the video and other content across your channels and asking your supporters to do the same. Here are some other suggestions:
As an organisation or team contact your local TDs and/or Ministers asking them to champion the 5 asks in our Pre-Budget Submission
Ask your supporters to contact their local TDs using the resources on our webpage page
Share our content on social media and tag relevant politicians
Have conversations with your supporters, your family, your neighbours on why our asks are so important
We have developed a members' toolkit for the #NowMoreThanEver Campaign which will provide you with infographics, suggested post wording and a content calendar so that there is consistency of message across the network. To receive access to the toolkit contact ronan(at)dochas.ie
How our Supporters Can Support the Campaign
We are asking everyone who is a supporter of international development and especially Irish International development organisations, to be part of this important campaign. Like our members, we want you to share the video and tag your local TD, telling them that global solidarity is important to you. If you can, we would love supporters to write to their local representatives too to make the case for overseas aid. Below are some hints and tips to give you an idea of what to write. Below you will also find a link to WhoismyTD.com where you will find details of all of your local elected representatives.
Some tips for engaging your TD/Senator
Include your full name and address
Engage with local/constituency representative
Send individual emails – don't cc
Personalise your e-mail if you can
If you know the TD/Senator or have met or engaged with them before mention that
Global Solidarity is needed #NowMoreThanEver
Larissa from Burkino Faso (photo courtesy of Plan International Ireland)