Children and vulnerable adults are at increased risk of exploitation in Ukraine Crisis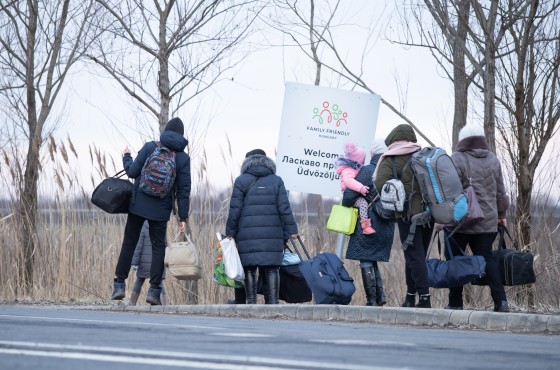 Image Credit: Shutterstock
01 Apr 2022
"It is vital that standard operating procedures and uniform guidance for the reception and support of children are developed urgently and implemented effectively. Full support also needs to be given to developing a shared anti-trafficking plan to address the risks of trafficking and the support potential victims." - Jane-Ann McKenna
As the conflict in Ukraine continues to unfold, and atrocious attacks prevail, millions of people, including 2.5 million children have been displaced within the country, and a further 1.8 million children have crossed the border into neighbouring or EU countries.
Many of these children find themselves in an unfamiliar environment or territory, unaccompanied, scared or traumatised. Dóchas, the Irish network of international humanitarian and development organisations, is extremely concerned about the heightened risk of violence, exploitation and abuse that many children on the move in and outside Ukraine are now exposed to. We have seen this play out time and time again in other conflicts and humanitarian crises - children falling prey to human traffickers and abusers who target their extreme vulnerability for their own gain.
Speaking on the topic of safeguarding risks, CEO of Dóchas, Jane-Ann McKenna said "Those most at risk are the unaccompanied children who have been separated from their parents, or orphaned, as well as those with disabilities and in institutions, including up to 100,000 currently living in orphanages."
She added "Trafficking rings are now moving in - taking advantage of the chaos and destruction - to exploit the high volume of vulnerable children and adults on the move. Displaced women and girls are facing gender-based violence when sheltering of seeking asylum. This is compounded by the fact there are a huge number of unregistered volunteers helping refugees in neighbouring countries, in official and unofficial accommodation centres.''
Ros O' Sullivan, Head of Emergency Operations with Concern, is currently situated on the Polish side of the border and crossed over from Ukraine on 30th March with some 250 Ukrainians. He believes that while the risks around safeguarding have certainly been acknowledged and acted upon, vulnerable people, especially women and children face an ongoing risk.
He said "The authorities have done a huge amount of work to address safeguarding risks at the border crossings through awareness raising, including handing out leaflets in Ukrainian which inform people of their rights and registering volunteers with local police. However, from the crossing points, these people get on trains and buses which take them to major urban centres. It can be at these points, where vulnerable people get lost. It is imperative that authorities protect Ukrainian people throughout their journey until they get to the destination of their choice that they know to be safe for them."
Speaking following the publication of the EU Commission 10 point plan for stronger European coordination on people fleeing the war from Ukraine, Jane-Ann McKenna welcomed the clear attention to concerns relating to child protection and the need for a common anti trafficking plan set out in it.
She went on to say that "It is vital that standard operating procedures and uniform guidance for the reception and support of children are developed urgently and implemented effectively. Full support also needs to be given to developing a shared anti-trafficking plan to address the risks of trafficking and the support potential victims."
Dóchas, led by their Safeguarding Working Group, are calling on relevant authorities and all organisations working with people on the move to give priority and urgent attention to the specific challenges facing children and adults at greater risk of exploitation, and to adapt their response to reflect this. A range of practical measures must be put in place to protect those who need it.
Families should not be separated, and safe spaces must be created for families to stay together at border crossings. Information needs to be provided to children and vulnerable adults on their rights and the protection services available, at all locations. A screening process for vulnerable children at all crossing points must be implemented.
Amidst the many pressures in shaping effective responses to the current conflict Dóchas is urging all authorities to give the utmost attention to ensuring that all parties focus on and resource the commitment to safeguard children and adults at special risk of exploitation and abuse.