Creativity, Innovation and Leadership Course: A UCD programme for leaders in Dóchas
Dóchas launches new 2023 leadership course for members in partnership with the UCD Innovation Academy
31 Dec 2022

Dóchas is delighted to announce a new leadership initiative in partnership with UCD Innovation Academy. Based on UCD's successful Professional Diploma in Creativity, Innovation and Leadership, this course is for leaders in the international development and humanitarian sector who want to learn about creative leadership and enabling change in your organisation and beyond.
Participants will develop the skills and tools needed to cultivate an innovative environment in your work, influence others and harness the energy of a team to solve challenges together.
The programme will be delivered between February and May 2023 and is open to full members only. Spaces are limited to 36 participants so apply early. The closing date for applications is 5 pm, Wednesday 7 December.
For more information on the course and how to apply, click on the course brochure below.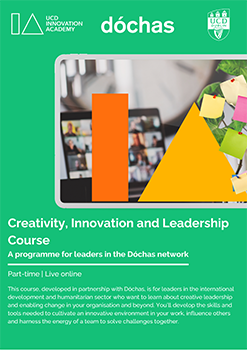 Pre-Course Briefing Session
We held an information session at 1 pm, 28 November with Jane-Ann McKenna, CEO; and Course Director Maurice Knightly, Entrepreneurial Specialist Eina McHugh and Eleanor Kelly Head of Strategy and Partnerships from the UCD Innovation Academy. An over view of the course was given and attendees got the opportunity to ask questions about the course. If you missed it you can watch it back below.
For more information please contact morgane(at)dochas.ie
This course has been made possible by a Training Links Grant from The Wheel for a Leadership initiative supported by the Dóchas Small Members Working Group. A Steering Group of members from this Group worked in partnership with the UCD Innovation Academy to help create a course, criteria and process for a Leadership Programme tailored to our members.