Irish humanitarian organisations give stark update on the Horn of Africa hunger crisis to Oireachtas Committee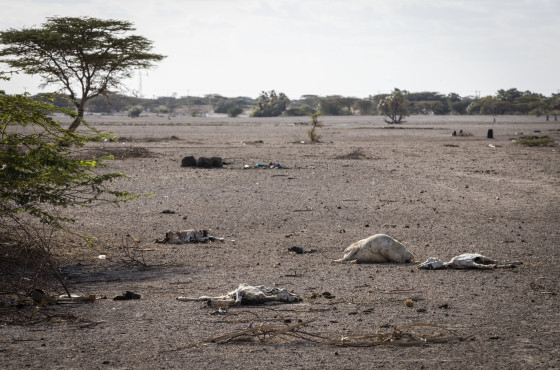 One person dying every 36 seconds according to new estimates
25 Oct 2022
Since May of this year, estimates of the number of people across the world who will experience crisis levels of hunger in 2022 has risen from 181 million people (in 41 countries) to[i] 345 million.
In addition, the prediction made five months ago that the rains would fail in the Horn of Africa again this October, has now come to pass. This is the fifth consecutive season that they have failed, a depressingly historic statistic.
All of the above stark facts were presented today to the Joint Committee on Foreign Affairs and Defence by Dóchas, the Irish Network of Humanitarian and Development Organisations, along with colleagues from Trócaire and Concern.
In her opening statement to the committee, Jane-Ann McKenna, CEO of Dóchas said "It is not an exaggeration to say that catastrophe has already arrived in the Horn of Africa and a rapid escalation of humanitarian aid into areas facing famine is needed. While I am reading this statement, 12 more people will have died in East Africa due to lack of food and related complications. That anyone, anywhere is dying of hunger in 2022 is unacceptable. That any child would spend its first years knowing nothing but hunger should shock us all into action."
Ms. Mckenna acknowledged recent action from the Irish Government, with particular reference to the allocation of €30 million to the Horn of Africa for 2022, and the increase in the overall overseas aid budget for 2023.But she warned that further urgent action is now needed to tackle the deadly combination of drought/climate change and conflict which is displacing millions and leaving so many at death's door.
She called on the Irish Government to be a world leader in calling for faster decarbonizing of countries in the global north, to push for and contribute towards a UN loss and damage fund to help those countries on the front line of climate change who have contributed least to it, to continue Ireland's leadership on solving the causes of conflict and hunger as it steps off the UN Security Council, and to continue to grow Ireland's ODA budget in line with its commitment to spending 0.7% of GNI on ODA by 2030.
In closing Ms. McKenna stated that political action and leadership is needed to prevent this catastrophe getting worse. Each day of delay exacerbates human suffering, increases the scale of the crisis and raises the cost of response.


[i] https://www.fsinplatform.org/sites/default/files/resources/files/GRFC%202022%20Final%20Report.pdf