Recruiting Trustees from the Global South to your Board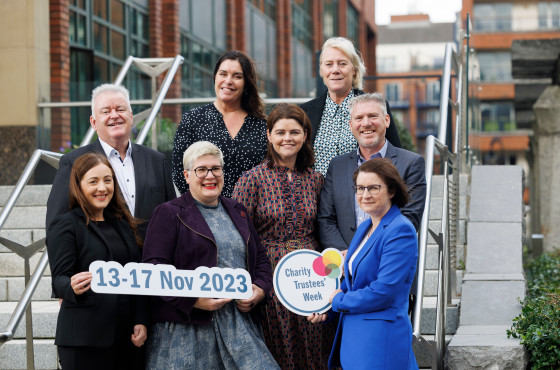 Watch back our online event as part of Charity Trustees Week 2023
14 Nov 2023
Dóchas online panel discussion:
Watch back our Dóchas event celebrating Charity Trustees Week 2023. Moderated by Dóchas CEO, Jane-Ann McKenna, we explore the topic of Recruiting Trustees from the Global South to your Board, with expert input and discussion from three leaders in the development and humanitarian sector.
Panel Speakers
Makena Mwobobia: ActionAid Ireland Board Member, Development Practitioner and senior leader in civil society sector
Jim Clarken: CEO, Oxfam Ireland
Melissa Bosch: Trócaire Board Member and Chair of Organisation & Human Resources Committee; EY Ireland CBS Associate Director for Diversity, Equity & Inclusion.
Topics
The one-hour discussion explores key questions such as:
What are some of the challenges for our sector in addressing Board composition, past and present?
Why is it important to attract the right candidates from the Global South at Board level?
What are some of the more recent innovative initiatives in recruiting candidates?
How best can we overcome barriers to success, whether practical, logistical or cultural?
How might the sector more effectively collaborate to advance progress in this area?
Speaker Bios
Makena Mwobobia
Makena joined the ActionAid Ireland board in July 2020. She is a multi-skilled development practitioner with over thirty years in senior leadership in the civil society sector. She has both local (Kenya) and international field experience from Ethiopia, Nigeria, Somaliland, India and South Sudan. Makena has vast experience in programme design, implementation, evaluation, and people management. She is a capacity builder, a mentor, and an enabler, especially to young people and to vulnerable girls and women. She has led and inspired multi-cultural, multi-diversity strong teams with three International NGOs. She has also lived in Sweden where she volunteered with a local organisation working with people seeking political asylum.
Makena is a founding member of Sauti ya Wanawake (Women's Voices), a local movement that has become a powerful voice of women and girls in Kenya. She is former Executive Director with ActionAid Kenya before she retired in 2020 and is currently the Executive Director at the MS Training Centre for Development Cooperation in Arusha, Tanzania. Makena has served on several boards including the CHS Alliance where she represented the ActionAid Federation. She holds a Bachelor's degree from Oral Roberts University, USA.
Jim Clarken
Jim Clarken is the CEO of Oxfam Ireland and an Executive Director at Oxfam International. He was appointed by the European Commission to the board of the European Union Fundamental Rights Agency (FRA) and was elected as Chair. He is a Commissioner at the Irish Human Rights and Equality Commission where he Chairs the Worker and Employer Advisory Committee and Audit & Risk Committee. Jim is a leading commentator on global issues relating to human rights, inequality, sustainable development, the rights of refugees and migrants, and the role of business in protecting and promoting human rights, contributing to political and public debate in a wide range of international fora. He was a member of the Stakeholder Forum advising the Irish Government on its role at the UN Security Council. A passionate advocate for the rights of women, Jim has driven a gender-focus throughout Oxfam's work, with emphasis on women's economic empowerment, participation in political and business leadership and ending gender-based violence. He has led the Irish Consortium on Gender Based Violence and was appointed by the Ceann Comhairle to the Forum on Family Friendly and Inclusive Parliament to recommend a transformation in how the Oireachtas operates to ensure it is better gender balanced and diverse.
He is a former Chair of the Board of Dochas. Jim is an Adjunct Professor at the School of Business and Law at University College Cork and a regular contributor to academic thought leadership in Ireland and internationally. Prior to joining the international development sector, Jim worked for over 15 years at senior management and board level in a range of industries including energy, pharma, environmental, construction, brewing and start-ups. He has been involved at board level in several non-profit organisations in the development, education and arts sectors as well as business representative bodies.
Melissa Bosch
Melissa is a Trócaire Board member and Chair of their Organisation and Human Resources Committee. She is an accomplished Diversity, Equity and Inclusion strategist, holding the role of Country Lead on DEI with EY Ireland. She has also delivered training on DEI to the Trócaire Board, and has recent experience of using some innovative channels for recruitment, such as The Boardroom Africa. Melissa's strategic focus is to direct, design and embed the culture and practice of equity and inclusion by assessing and implementing sustainable solutions to complex equality, diversity and social inclusion challenges. Partnering with businesses she disrupts, develops and implements policies, practices and interventions to attract, retain and develop diverse talent through a culture of inclusion that supports and unlocks individual purpose and potential. Her aim is to help organisations break down barriers to inclusion, build routes to opportunity and create equitable access for all.
Melissa holds an advanced diploma in International, Digital and Strategic Marketing and Professional diploma in Financial advice. She is currently undertaking a Master of Business in Equality Diversity and Inclusion.
About the Charities' Trustees Week:
Charity Trustees' Week is hosted in partnership by the Charities Regulator, Boardmatch Ireland, Carmichael, Charities Institute Ireland, Dóchas, Pobal, The Wheel, and Volunteer Ireland.
As well as celebrating the work of charity trustees, the week's events will also help to raise awareness among the public and others interested in the sector of the vital contribution of charity trustees to Ireland's over 11,500 registered charities.
For the full programme of the week's events see here.
Title Image
Front row left to right: Jane-Ann McKenna, CEO - Dochas, Zsé Varga, Volunteering Development Programme Manager – Volunteer Ireland, Helen Martin, CEO - Charities Regulator
Middle: Diarmaid Ó Corrbuí, CEO – Carmichael, Rea Walshe, Interim CEO – Boardmatch, Ivan Cooper, CEO - The Wheel
Top: Aine Myler, CEO - Charities Institute, Anna Shakespeare, CEO – Pobal