We watched whole communities emerge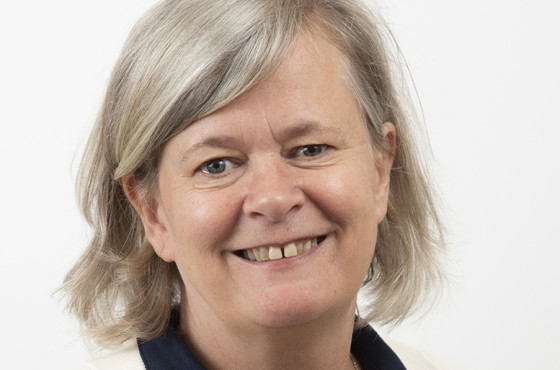 Dóchas' series on Irish people working in the international development sector.
Sorcha Fennell, Trócaire
04 Oct 2022
"We watched whole communities emerge, building not just the security of a roof over her head, but the security of ownership and the protection that ensured." – Sorcha Fennell.
As my children and their friends tell me, choosing a career nowadays is a complex task with a dizzying amount of choices in what, where and how you work. I had no such trouble. From a very young age I knew I wanted to work in International development and I feel lucky and grateful to have been able to fulfil that wish. I have lived and worked in some of the world's most challenging countries in Asia, Africa and Central America and in my current role I am responsible for the International Operations and projects we manage in Trócaire.
Context can have a huge bearing on our choices and for me going to school in Coláiste Iognáid in Galway was a formative experience. Their emphasis on social justice influenced me at a time where we were living through the troubles in Ireland, famine in Africa and unrest in Central and South America. My family had an influence as well. My mother had worked with Palestinian refugees in Israel, my grandmother had been a doctor in Africa and my great Aunt was a Franciscan nun working as a missionary in Uganda. I was always a really engaged activist and even started my own Social Action Group at school. After studying social work in Derry for two years, I decided to go overseas and volunteer.
Nine days after my twentieth birthday, in January 1991, I paid for myself to fly to my great Aunt Terry in Uganda and volunteered as a teacher in a former leprosy colony, that was now a school run by her group of incredible Franciscan nuns, the youngest of whom was 76 and the oldest was 89. It was a truly eye-opening experience. The country was ravaged by AIDS and still recovering from the brutal reign of Idi Amin.
It took me a while to get used to it, to absorb the smells, the sounds, the numbing poverty. All my senses were on high alert. It felt very far from home and as a social person the new sense of isolation life took a bit of getting used to. But it was also exciting, challenging and a time of incredible learning. Teaching the children was something I loved. I became aware of the transformational potential of education and how parents wanted above all to give their children the opportunity of school and learning. Before I left, I decided to help some of them get to secondary school so I hatched a plan. I took out a loan, bought loads of high quality African art and crafts and brought them back. I approached Sabina Higgins who helped me put on an African Exhibition and raised enough money to send them to school. The local Galway community was great too. I remember Kenny's bookshop giving me loads of Ladybird books to take back to the children.
When my time in Uganda was up, I knew I wanted to continue this kind of work. I came back to Ireland, studied Development Studies and then joined Goal, working in South Sudan for 3 years until 1997. The people there were suffering from the twin ravages of war and famine, and I learned a lot about the international and political context that shape those events. Southern Sudan and its people those people deeply influenced my view on development and I still count the people I met there as my friends.
After meeting my husband and spending a year traveling, we moved to Honduras for his work. Soon after we arrived, Hurricane Mitch happened, the deadliest hurricane in history at the time. It's difficult to describe the devastation we witnessed. People, houses, crops just disappeared. Many had been swept away in their beds. I remember a woman standing with one flip flop and a plastic bag and a look of total shock. That was all she had left.
The lack of basic infrastructure meant so many people died that shouldn't have. Existence was tenuous, people living in shacks at the edge of rivers with no ownership or land.
I contacted Trócaire and told them I had experience and was on the ground and so started working with their emergency response. What I worked on in the following months and years, showed me how utterly transformative aid and support can be. I began to understand the importance of sustainable, long term development and tackling the fundamental structural issues that often underpin poverty.
In Honduras, Trócaire began a campaign to ensure women got title to and ownership of their land. Generally, land and home ownership was in the man's name, which left women with no security. During the reconstruction phase, we ensured that title deeds were in the name of the youngest child or mother. This simple move was transformative. We watched whole communities emerge, building not just the security of a roof over her head, but the security of ownership and the protection that ensured. At the opening ceremonies of these estates, women would come up and hold up their key knowing it meant safety, lighting, protection for your children now and in the future. It's the difference between a band-aid, (which can be necessary in an emergency), and a cure.
Currently Trócaire works in some of the world's poorest countries. Myanmar, Somalia, Ethiopia, the DRC among others. Hundreds of millions of lives are at risk every day from war, famine and climate change. In this context, the impact of helping one person can be so simple yet profound. The Democratic Republic of Congo is one of the most insecure places in the world, especially for women. There are around 138 militia groups operating in the Eastern DRC and insecurity is a constant reality for the communities and for our staff. One day we were meeting a women's group with whom we had recently run a literacy programme. We sat in a meeting with these women and asked what it had meant for them. I'll never forget one woman standing up and simply saying "now I can write a text." The enormity of this woman to be able to now read warnings that will impact her security, or ask for help is profound. The power that simple skill can now give her can't be underestimated.
That's all overseas aid, or support organisations like Trócaire is - we work with people who don't have the menu of options we do, and help them create those options. It's not charity, it is simply enabling and empowering those who are vulnerable to poverty and violence. The people I have met and worked with over the years are strong, powerful, resilient and dignified people who find themselves in environments and conditions that are simply impossible to get through without some form of support- the support is an enabler, capable of transforming lives – but the people we work with are the real agents of change.
This article first appeared in the Connaught Tribune on 16th September 2022