Community Makes Places Home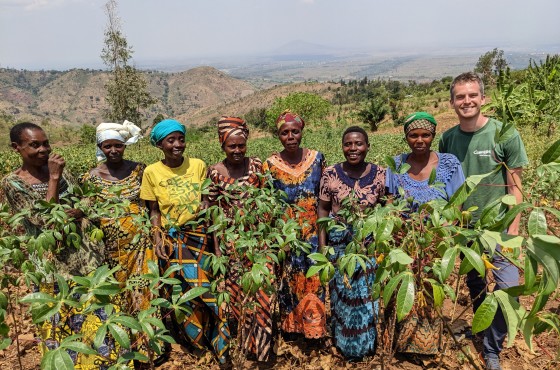 Dóchas' series on Irish people working in the international development sector.
Paul Carr, Concern Worldwide
03 Oct 2022
"Whether it's a rural part of Donegal, an urban street in Bangladesh, or a village in Rwanda, community is what makes them home." - Paul Carr
In my teens and early 20s, I'd always had an inclination to work in overseas development but didn't think I had the right skillset or resilience. It felt like such an unknown. I studied Communications at Dublin City University and then spent a number of years working abroad in Canada and Japan. Eventually after a lot of research, I came back to Ireland to begin a Masters in International Development. It was a two-year course with field and practical experience built into it.
As soon as I graduated I began working with Concern in internal communications, combining both my passions. It gave me such a deep understanding of their projects and I got to travel and see the impact of the work on the ground.
One visit was to Bangladesh, where Concern worked with street dwellers. The level of abuse, trauma, and individual unique hardships that children and young people experience there was hard to comprehend. It remains one of the most impactful experiences in my career. I spoke with teenage girls, and the level of trauma and abuse they can face on a daily basis is staggering. They might have lost their mother, then been shipped off as a domestic slave to another part of the country or, for various reasons, had become homeless and have no-one.
These stories are repeated over and over again; abandonment, sexual abuse, no support. They would tell me on the streets that they would tie each other's arms together with strings so that if one of the children or girls were taken away in the night at least the person next to them would be alerted. Not to be able to save them, but so they knew what had happened. The intensity of the hardship these girls experience is staggering.
But what was also staggering was the level of personal resilience. They have hopes and dreams like every other teenager. Concern's drop-in centre meant they had somewhere to go, to get support and pathways to education and jobs they could enjoy. Much of the support was around building their mental health and confidence so that they could have a different life, and then empowering them with the skills they need. When a girl came back to update us on her new life, perhaps in a job she enjoyed and with a family, what struck me was their sense of belonging to their community, for perhaps the first time in their lives.
When I look back at growing up in Donegal, and my own village of Cranford, it is that sense of belonging that has allowed me to go out and make my way in the world, knowing it is always there for me.
Now I'm based in Rwanda, working in an area called Graduation. It's an approach to graduate extremely poor households out of extreme poverty in a way that is sustainable and holistic in line with all the various and specific circumstances of that poverty. Rwanda is known as the land of the 1000 hills, and it reminds me so much of Donegal, where of course there are countless songs about the hills of Donegal.
I grew up in rural Donegal and the thing I miss most is the sense of community I grew up with. It's hard to quantify the impact that has on your life. When I go home, I'm embraced back into the community, where my brothers and sister all play in local sports, and I can go to the local pub and know I'll find friends there.
Rural Ireland is a community-based structure, and I see that all the time in other countries. I can also see when it is missing. Just looking at the last two Irish referendums, I feel a reason they were so successful has a lot to do with that community-based dynamic, that empathy and compassion towards people in your community.
I see a lot of that in Rwanda as well. The not too distant history of Rwanda is very dark. The Genocide was a dark spot in global as well as local history. Yet in a very short space of time, both as a national community and throughout local communities, people have banded together to work past that unbelievable trauma and build very cohesive, warm compassionate communities, who are really looking out for each other. I have Rwandan friends here who lost family and now they build a community together, caring about their neighbours.
Charitableness comes from that compassion and that sense you want to look after your neighbour. That is also at the heart of Donegal. My grandmother died when I was 10, but she was known locally as someone who swam Mulroy Bay most days. In memory of this, the community in Cranford teamed up with RNLI and started an annual fundraising event - the Madge Carr Memorial Mulroy Bay Swim. That is just one very small example where people understand the power of community and charity.
It almost makes it easier to live a life away because I know I always have a base which feels familiar and that gives me that comfort. Whatever challenges my life might throw up, I always have my Donegal back up. All my hobbies are from living there, being engaged with the mountains and sea, hiking, biking and kayaking.
That's what makes my work in Rwanda so satisfying, watching a community come together. That's what made seeing the project in Bangladesh so rewarding. Seeing girls who were so outcast and abandoned by society, come to feel they belong in a community. Despite differences in circumstances, there is still so much commonality between what people want in their lives. Whether it's a rural part of Donegal, an urban street in Bangladesh, or a village in Rwanda, community is what makes them home.
This article first appeared in the Donegal News on 15th September 2022