GOAL
Working with communities facing extreme poverty and crisis
GOAL works with the most vulnerable communities to help them respond to and recover from humanitarian crises, and to assist them build transcendent solutions to mitigate poverty and vulnerability.
Stories From the Field
South Sudan (Health)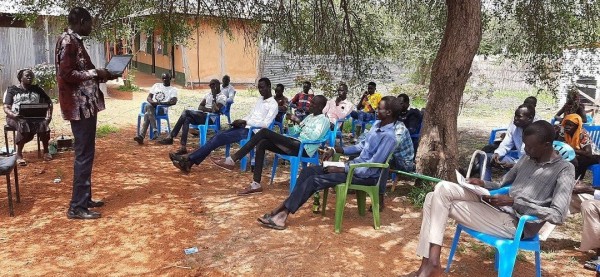 GOAL COVID-19 Officer, Deng Buny during a training of CLA and community mobilizers in Melut, Upper Nile/South Sudan.
By the middle of July, South Sudan had officially confirmed over 2,200 cases of COVID-19 and 45 deaths. South Sudan is one of the more vulnerable countries in Africa. Since its independence in 2011 the country has experienced many challenges, including civil war which has taken a toll on the country's health infrastructure. While it has yet to see a major outbreak of COVID-19, there is evidence of growing community transmission and there are fears the virus may overwhelm the fragile health system. The country is home to 11 million people, but reports suggest there are only four ventilators and testing capacity is limited across the country meaning it is difficult to truly understand the scale of the outbreak.
With limited healthcare capacity, prevention of transmission is the key to combating COVID-19. To date, GOAL has reached over 660,000 people; over 400,000 through face-to-face messaging and another 260,000 through megaphone messaging in communities. GOAL is also training local leaders to prepare their communities for COVID-19 prevention through the Community-Led Action (CLA) approach developed during the Ebola Crisis in West Africa in 2014. This enables communities to learn prevention techniques and best practice in their own language from local leaders whom they know and trust. GOAL is coordinating efforts with various government ministries and other national and international aid agencies.
MALAWI (Gender)
GOAL implements the Spotlight Initiative in the Machinga and Nsanje districts of Malawi. The project, funded by the United Nations Population Fund (UNFPA), has a mentorship approach and is aimed at eliminating violence against women and young girls between 10 and 24 years of age. The initiative uses safe spaces so women can freely discuss their experiences and learn about what help is available. GOAL initially facilitated the identification of mentors within the community and then trained them on the mentorship approach. To facilitate ease of access in hard-to-reach areas, UNFPA recently procured 90 push bicycles, which GOAL has distributed to its mentors in the Machinga and Nsanje district. This will allow them to travel and meet mentees during their weekly mentorship session.
The Spotlight initiative discusses a number of themes to eliminate violence against women. These include attitudes and behavioural change at community and individual levels; exploring sexual gender-based violence (GBV) and its related harmful practices; and the promotion of women and girls' sexual reproductive health rights. The programme also promotes and strengthens the quality of gender-based violence services.
ETHIOPIA (Humanitarian Response & Conflict)
Primarily funded by Irish Aid, GOAL's ChildSPACE project in Ethiopia aims to reduce the vulnerability of street-connected children and youth in Addis Ababa and Hawassa. The youth begin their lives on the streets for many reasons. But once there, they all become increasingly vulnerable to psychological and physical harm. They suffer from a lack of access to educational opportunities, basic healthcare services and environments that foster cognitive and psychological development and well-being.
ChildSPACE programme increases protection for street-connected children in two ways. Through street-based work, GOAL staff reach out to the children where they live and strive to improve their quality of life in their own environment. By doing this, staff develop a thorough understanding of life on the street. Subsequently, they can tailor their supports to the needs of the youth. This approach also enables staff to have a greater reach and to make contact with youth in support of the ChildSPACE Drop-in and Rehabilitation Centre (DIRC) service. The DIRC is a safe space where the children and youth can access life skills training and receive basic numeracy and literacy education. Attention is given to their psychosocial needs through group and individual counselling sessions and therapeutic activities such as sports and art. Between 2012 and 2018 alone, the ChildSPACE programme reached a total of 16,355 children and youth. Guidance and counselling sessions were provided to over 10,500 and over 11,500 attended life skills sessions as part of the programme. The youths' entrepreneurial skills have been fostered and encouraged, with 799 youths being supported by GOAL to set up and run small businesses. This encouragement serves to strengthen the youths' life skills and employment prospects, supports their income and enhances their livelihoods.
IRAQ (Humanitarian Response & Conflict)
Last year GOAL implemented a project to strengthen livelihoods for the people of Al-Hamdaniya District, in Nineveh Governorate in Northern Iraq, the second largest province in the country in terms of population, with about 4 million people living there. This province has witnessed many conflicts as well as natural disasters, as Mosul, the centre of Nineveh, was the first and largest city that came under control of ISIS in 2014. This led to many human and material losses in the province, which also suffered from several floods due to heavy winter rain, as well as fires due to high summer temperatures.
Funded by Irish Aid and benefitting more than 500 residents, GOAL's project included training communities to plan for emergencies and reduce disaster risk. One hundred people were directly involved in the training. Sixty-five per cent reported they had implemented what they learned in their day-to-day lives and used some of the practices to face emergencies they encountered, reducing losses as much as possible. Laith Hamid, a 29 years old cattle farmer, was one of the participants. He built a wall inside his stables to protect his cattle against floods and to give the animals an opportunity to find a safe place in the event that water entered the stable. "I developed this idea during the Emergency Preparedness training provided by GOAL in Ninawa 2019" Laith said.