Oxfam Ireland
World-wide development organisation mobilising the power of people against poverty
From women's rights to water, earthquakes to education, our life-changing, ground-breaking work is carried out on a global scale.
Stories From the Field
UGANDA (Realising Rights)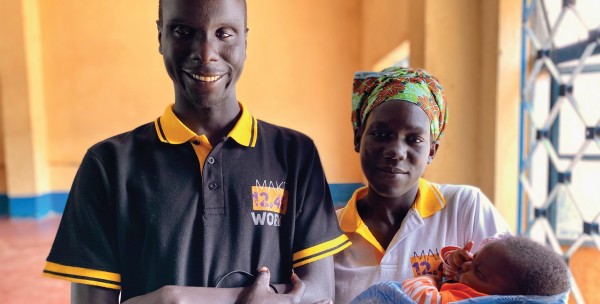 Chris Osooti with his wife and child. Photo Kieran Crawley Oxfam Ireland
In Uganda, where many marginalised communities have no voice, Oxfam Ireland, with the support of our partner UYONET, have been training young people to lead the way in the areas of governance, lobbying and advocacy. It has resulted in young leaders making the voices of their communities heard in decision-making forums, and enabling these young people to influence local governments to addres sissues such as teen pregnancy, child marriage andservices for people with disabilities (PWD).
Among those we worked with last year were Mercy Ocotoco and Chris Osooti, both of whom are sight impaired. Having completed our Youth Ignite Programme, these youth leaders now actively advocate on behalf of PWDs. Chris, who sits on the local community services committee that oversees how government grants for PWD are disbursed, said most people do not believe that a sight-impaired person can work, or do a job to a high standard. However, Chris – who manages several fishponds and grows cassava – is proof that PWD can also contribute significantly to society.
He encourages other people to follow his lead, adding: "If there are no jobs for us, we will fend for ourselves". Meanwhile, Mercy features on local radio stations at least once a month to talk about disability. Despite her sight impairment, she is comfortable with the media. "We used to fear speaking out, but not anymore", she said. Mercy also feels that there has been a change of attitude in the district as health facilities are now more sensitive in how they deliver services for PWD. Despite there still being a long way to go, the two young leaders want to collaborate with other organisations that advocate for PWD so that they can bring the programme to other communities.
TANZANIA (Resilience & Climate Adaptation)
The people Oxfam Ireland work with say that more frequent and longer droughts, and more heavy rainfall and flooding, are wreaking havoc on growing seasons and doing untold damage to farmland and crops.
In Tanzania, we support greenhouse horticulture and irrigation to help communities adapt to the adverse impacts of climate change and enable them to grow crops during periods of drought.
Furthermore, last year we enabled 118 groups to get involved in a variety of income-generating activities including honey production, groundnut butter processing, fish farming, and sunflower production and processing. As a result, women have become leaders in the communities where we work and are now more confident taking part in decision-making processes. Their earning power also increased last year, with annual income rising by 41% to $250, up from $129 the previous year.
Not only have women experienced improved livelihoods and gained more opportunities to earn a living, they are able to contribute to their households and are better prepared to withstand stresses and shocks such as crop failure.
YEMEN (Humanitarian Response & Conflict)
Yemen is one of the world's worst humanitarian crises, with half the country facing starvation due to ongoing conflict. Oxfam Ireland reached 156,562 displaced people in Haijah Governorate in north-western Yemen with safe access to clean water last year, reducing the number of fatalities from waterborne infections.
The number of families with access to clean water within half a kilometre of their shelter rose by 7%, thereby reducing the physical burden of collecting water and the personal risks to women and children, who are usually responsible for the task. Increasing the number of water stands also meant that 79% of households reported queuing times of no longer than 30 minutes.