Plan International Ireland
Standing up for every child's right to fulfill their potential
For more than 80 years, we've been taking action and standing up for every child's right to fulfill their potential. On a daily basis, our energy is devoted to making a difference for children living in poverty. We stand up for children's rights. We listen to the children we work with and find the best way forward together. We trust in what we do and strive to be open, accountable and honest. We are different. We are Plan International.
Stories From the Field
JORDAN (Humanitarian Response & Conflict)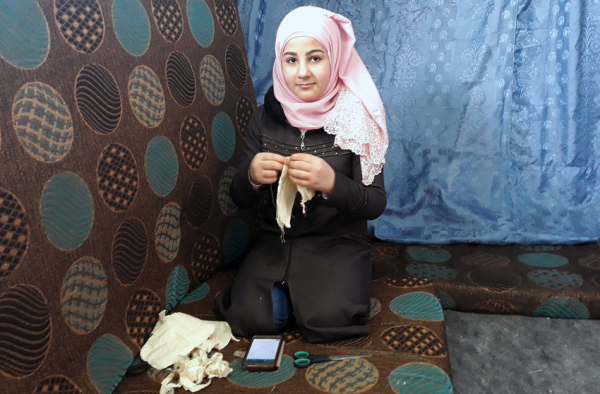 Helping women and girls cope with COVID-19
"I like the sessions which are done through WhatsApp, they help keep me busy and take my mind away from the pandemic which is scary." 12-year-old Majd (pictured above) in Jordan who has been out of school for several months.
Jordan enacted one of the strictest lockdowns seen worldwide to combat COVID-19. When the lockdown came into effect, Plan International supported girls and young women in the Azraq Refugee camp to distribute sanitised handicraft kits and inviting other girls and women to join group call sessions on how to make masks. Young women in the camp have also been leading and implementing parenting, life skills, literacy and youth club sessions using social media. Girls in Youth Committees have helped facilitate online life skills sessions for children that highlight issues such as the importance of girls' rights, mental health, wellbeing, education and safe spaces.
While there is quite rightly a focus on vulnerabilities of refugees in light of both existing humanitarian crises and the current COVID-19 pandemic, the agency and power of adolescent girls and young women in preparing for and responding to humanitarian crises can often be overlooked.
Adolescent girls face challenges that are different to those faced by adult women and boys. Harmful social norms, gender-based violence in the home or the community, lack of access to education, early marriage and pregnancy are all major obstacles that are amplified in times of humanitarian crisis.
Periods don't stop during the pandemic
Periods don't stop during a pandemic, and for millions of women and girls the challenge to privately and safely manage menstruation was already an issue. Severe shortages of products, a sharp rise in prices of pads and tampons, and lack of access to basic information and services about menstrual hygiene management is leaving girls and women worldwide struggling to manage their periods during COVID-19 lockdowns. Plan International are distributing menstrual hygiene kits to girls and young women that include sanitary pads and soap as part of our COVID-19 response. Plan International is also calling on governments and health agencies to urgently assist girls, women and people who menstruate to manage their periods safely and with dignity. Menstrual hygiene management must be built into COVID-19 health responses and whilst lockdowns continue, it should be built into remote learning curriculums.
"With lockdowns and families stocking up on food and supplies, I can tell you for a fact that the majority of families in my area will not consider sanitary towels. Those are normally considered a luxury. That's why we are always glad to go to school as we can get them from school." 16 year-old Nisera from Kenya.
SAHEL (Education Under Attack)
Sahel girls need action on safe schools
School should be a safe space for children and young people; a place where they can fulfil their potential, and build relationships, knowledge, and skills. The global Coronavirus pandemic left 1.6 billion children out of school in 2020 – while many are in the process of returning, some will never return to school. For many others, it is not only the pandemic that has made school unsafe or that will prevent them from returning to education. It is the conflict that rages in several countries around the world which spills over into education settings, leaving children, teachers and other education personnel vulnerable to attacks and violence.
"When we arrived in the camp, my friends and I were very happy to go to school every day. But we started being afraid to go because some armed people used to come and attack our school and take some girls away. Now we are not regularly in school." Sarata, 14, internally displaced person in Burkina Faso.
Attacks on education can set in motion a range of negative impacts for girls and women, such as loss of education, child and forced marriage, early pregnancy, children born from war-time rape and the stigma associated with sexual violence. All of these long-term consequences dramatically affect female students' futures, and often exacerbate pre-existing forms of gender discrimination and harmful practices.
Funded by Irish Aid Plan International contributes to increased access to a protective environment by providing Child Friendly Spaces with Psycho-Social Support, Case Management & referral services, contributes to strengthening the Community Based Child Protection mechanisms, prevention of and response to Sexual and Gender Based Violence (SGBV), in addition to access to basic Water, Sanitation and Hygiene (WASH ) facilities in Child Friendly Spaces. Adolescents girls and women are also provided with life skills training including Menstrual Hygiene Management (MHM) and awareness raising.
This year marks the Fifth Anniversary of the Safe Schools Declaration, an intergovernmental political commitment to better protect education during armed conflict. Plan International, together with partners, makes a reality of the Safe Schools Declaration by working with communities to develop contingency plans for schools, promoting local peace building initiatives and engaging communities in dialogue about reopening closed schools.