Trócaire
Trócaire envisages a just and peaceful world. We support people regardless of culture, ethnicity, gender or religion.
Our work is guided by five values:
Solidarity | We stand in support of people facing injustice
Perseverance | We do not give up
Accountability | We are accountable to our donors and the communities we work with
Participation | We believe everybody has the right to participate in decisions that affect them
Courage | We will be brave
We practice these values in our work with communities, supporters and donors.
Stories From the Field
Democratic Republic of Congo (Health)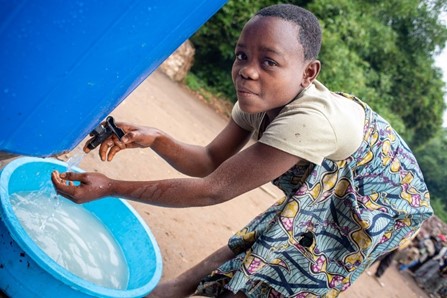 Mado Apula (14) from the Mbuti village of Bahaha, washes her hands to prevent the spread of Ebola. Photo: Garry Walsh / Trócaire
Preventing the spread of Ebola
In the thick jungles of the Ituri region of the Democratic Republic of Congo, bees are buzzing around Alundo Matope as he tends to his beehives. Alundo is from the indigenous Mbuti group that have traditionally lived in the forest and have been historically very marginalised. Eating forest animals leaves them particularly open to contracting the Ebola disease, which like COVID-19 initially spread from infected animals to humans.
Education levels tend to be low in Mbuti communities, and they are often neglected by government services. As Ebola has devastated this area of DR Congo, Mbuti communities are often left behind in prevention efforts. Sanitation can be poor in these communities, which also means Ebola can spread easily. Tackling Ebola in the DR Congo has been extremely challenging, and the outbreak has persisted for over 18 months. The country is one of the poorest in the world, affected by decades of conflict, with a very weak healthcare system. Over 2,200 people have lost their lives to the Ebola virus since the latest outbreak began. Tragically, two-thirds of those who have contracted Ebola have died.
Trócaire programmes have been helping to prevent the spread of the disease. We have provided hand-washing stations, water tanks, latrines, and water pumps to provide safe water to people.
Working with local partners Caritas Wamba and CVAP, we have worked with leaders like Alundo to build community outreach and education activities, as well as tackling misinformation. Alundo has used his influence to inform people to wash their hands, not touch dead bodies, and to stop hunting wild animals in the forest.
Hand washing stations have been provided for the local community to improve hygiene. Children in the community sing and drum along to songs about Ebola and they know all the words off by heart. With the help of Alundo's leadership, the fight against Ebola is working in their village. Alundo's two boxes of beehives have also been provided through the Trócaire project. As a result, he no longer searches the forest for wild honey.
Thankfully, due to the efforts of communities like Alundo's, the Ebola virus has now largely been contained in DRC. The numbers of new cases are now very low, and there is hope that this devastating outbreak is coming to an end.
NICARAGUA (Resilience & Climate Adaptation)
The blue house of Everth and Selena sits in the middle of a blooming garden. It is surrounded by flowers of different colours, fruit trees, wild animals and the smell of clean air. Yet ten years ago this land was barren and poor.
Nicaragua is very vulnerable to climate change and many poor indigenous farmers are struggling to grow enough crops to make a decent standard of living. A decade ago, the land where Everth and Selina live had been mostly dedicated to livestock farming and basic grain cultivation. As a result, the family cut down all the trees and left the land barren and poor.
Thanks to Trócaire´s local partner organisation ADDAC, Everth and Selena have adopted a new approach to their farm, which has completely transformed their fortunes. Everth and Selena began to implement organic and sustainable approaches. Agro-ecology is an alternative way of farming that makes the best use of nature's goods while not damaging these resources.
They received planting stock to transform the dry land into a diversified farm. They were also trained on soil and water conservation. Later, Everth joined experience exchange meetings where he had the chance to experiment with alternative ways of working and taking care of the land. The produce they grow is profitable, the work is fully organic and their own resources allow them a healthy, varied and balanced diet.
Everth and Selena's farm not only has coffee, fruit trees, vegetables, fish tanks, pigs and hens, but they also keep bees. They have 25 boxes of common bees and 4 boxes of 'stingless' wild bees. These bees, which are sacred to the indigenous Mayan people, are the wild bees of Central America. They are particularly special because of their small size and their even smaller stingers.
These friendly bees don't produce as much honey as common bees do, but the quality of the honey is much higher because of its healing properties. The production of honey enriches the food security of the family and earns a small profit through sales. In addition, the couple produces pollen, which is used as natural medicine for flu and sore throat and eye drops.
"I always had the desire to commit to something different, to generate change and to be an example for my family and in my community" says Everth about their remarkable farm.
ZIMBABWE (Gender)
Church leaders speak out on violence against women
Almost seven in ten women in Zimbabwe experience some form of violence in their lifetime. To tackle this crisis, Trócaire joined together with Church leaders in Zimbabwe in a national SpeakOut! campaign. This campaign was ground-breaking. For the first time, it united the four main Churches of Zimbabwe (the Evangelical Fellowship of Zimbabwe, the Zimbabwe Catholic Bishops Conference, the Zimbabwe Council of Churches and UDACIZA) to collectively come together to speak about Sexual and Gender Based Violence (SGBV).
Faith plays an extremely important role in the lives of people in Zimbabwe, with over 84% of the population of Zimbabwe being a member of a Church. There is huge trust in faith leaders. The campaign used the voice and influence of these leaders to begin a conversation about SGBV in churches, faith spaces and the wider community across Zimbabwe.
Launched in December 2019, the campaign resulted in significant media coverage in newspapers and on television and radio stations. It was also accompanied by a billboard campaign. Social media was used to bring the campaign to people online, with video messages of church leaders reaching thousands of people through Facebook and Twitter. Short videos also spread through the WhatsApp platform, which is very popular in Zimbabwe.
The campaign initiated important conversations in communities around balancing power in the family and supporting non-violent and positive relationships. The SpeakOut! campaign brought together over 2,000 people to events in four districts in Zimbabwe. These events saw women publicly speaking out about the abuse they endured at the hands of their partners.
Women and Girls symposiums also took place as part of the campaign, where 469 women and girls along with 67 men were able to access important information around sexual and gender based violence. Women were provided with a safe space to highlight their experiences and challenges, as well as getting information on support services.
The SpeakOut! campaign is part of a wider SASA! Faith project which engages communities and faith leaders to address violence against women. SASA! Faith has shown significant success to date in addressing knowledge and attitudes in Zimbabwe.
At the beginning of the programme, only 26% of men and 29% of women in target communities believed it was wrong to commit violence against women. As a result of activities like the SpeakOut! campaign, this has now dramatically increased to 83% of men and 66% of women. The higher rate amongst men is replicated in many countries and is reflective of the unequal power dynamics, with men holding more power to change decisions. The SASA! Faith programme in Zimbabwe has also engaged over 790 leaders to date to play an active role in addressing violence against women in their communities.
ISRAEL & OCCUPIED PALESTINE TERRITORIES (Humanitarian Response & Conflict)
Ever since an illegal Israeli settlement was built on Muhammed and Salim Sabah's land 18 years ago, the Israeli military have prevented the family from accessing their lands, south of Bethlehem in the West Bank.
Yet due to a successful legal action through Trócaire's partner organisation Haqel, Muhammed and Salim were last year able to enter their agricultural land again. "Even if our people were killed here, we would come back" says Muhammad. "It's like the air for us. We used to live here for many, many years."
The Israeli settlement of Ma'aleh Rehavam was established in 2001 on their land. This is a painful memory for the farmers. Prior to that, their families lived on 90 acres of land here and grew wheat and barley. Since the establishment of the Israeli settlement, settlers have used firearms and dogs to prevent the farmers from accessing the land.
"We came with our sheep and we were violently attacked," says Muhammad of an attempt he and Salim made to visit the land. Salim says he was pushed to the ground and threatened with a gun. The experience of the Sabah family is not unique. There are over half a million Israeli settlers now living in illegal settlements built on Palestinian land in the West Bank. These settlements, illegal under international law, continue to expand and create misery for Palestinian families like the Sabah family.
Yet these families can use the law to try and demand their rights. Despite the challenges, in many cases Trócaire's legal projects manage to get farmers back on their land. For over a year, Trócaire's local partner organisation Haqel has taken legal action with the Israeli authorities on behalf of the Sabah family. Haqel demanded that the families access their lands and be protected. Following the filing of a legal petition, the Israeli army finally withdrew its opposition.
After almost two decades, the Israeli army allowed the farmers to enter their lands again. With their land in bad shape, they brought tractors and began to plough the fields. They plan on cultivating wheat for the next harvesting season. "Hope is always here. We always wanted to keep the land and we never lost hope" they say. However the threat of violence is still real and they will need the protection of the Israeli army to continue to access the land.