Dóchas Conference 2023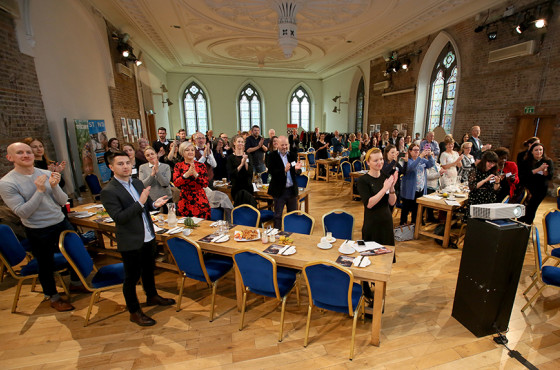 Join us for our first in-person Conference in four years, where we will be looking at Impact Networks and Equitable Partnerships
18 May 2023
Dóchas Conference, 12pm – 5pm
The Dóchas Annual Conference 2023 will be held from 12pm on Thursday 18 May in Chartered Accountants Ireland, 47/49 Pearse Street, Dublin 2. We will come together to explore two key themes, Building an Impact Network; and Equitable Partnerships: What does it look like to be a good partner?
The conference is for anyone interested in international development, humanitarian aid, localisation and creating impactful networks. You can book your tickets at the link below. Lunch will be provided for attendees from 12pm to 1pm. The conference will begin at 1pm.
Full Programme now available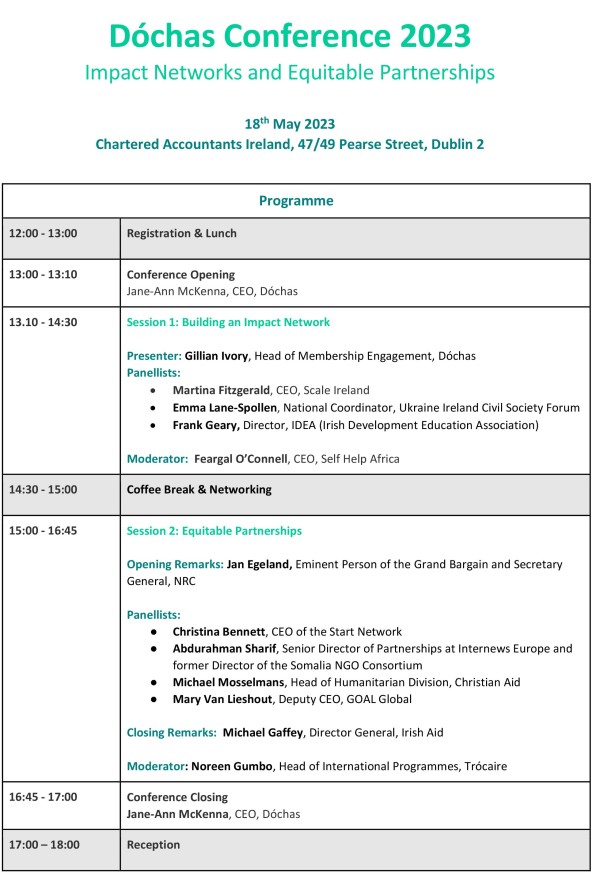 Building an impact network
In this session we will examine how to move from connecting people to greater impact through more purposeful collaboration. We will explore opportunities from our Dóchas network map, and look to other sectors, such as the tech sector, to see how they get beyond competition issues which lead to improved outcomes.
We are delighted to be joined for this session by:
Emma Lane -Spollen - National Coordinator of Ukraine Ireland Civil Society Forum
Emma is the national coordinator of the Ukraine Ireland Civil Society Forum. She has spent the last 20 years working on social change in Ireland, deepening understanding of how the system works. She has direct experience working within NGO's, Foundations, Government departments and Statutory Agencies. A former CEO of Comhlamh and Dochas Board Member, Emma then moved into philanthropy as Deputy CEO of the One Foundation, a limited life venture philanthropy and then CEO of the Tomar Trust. Seconded into the Dept of Children to develop the National Policy Framework - Better Outcomes, Brighter Futures. She later worked in Tusla and is now self-employed. She is a qualified management accountant and has a post grad in implementation science. Chair of Educate Together and Treasurer for Friends of the Earth.
Martina Fitzgerald - CEO Scale Ireland
Apart from being a member of the Dóchas board, Martina is the CEO of Scale Ireland, the not-for-profit independent representative organisation for Irish tech start-up and scaling companies. There are currently more than 2,200 start-up companies in Ireland, employing 50,000 people. She is also an active member of the global and European networks of start-up organisations. A graduate of University College Dublin, she completed a leadership programme at Harvard Business School in March 2022, and was previously a Visiting Fellow at Columbia University in New York. Prior to 2019, Martina was a leading journalist in Dublin including Political Correspondent with Ireland's national broadcaster, RTÉ, and author of a critically acclaimed best-selling book, Madam Politician, on Irish female government ministers.
Frank Geary - Director IDEA (Irish Development Education Association)
Frank Geary is Director of IDEA, the Irish Development Education Association, the national network for education for global citizenship and sustainable development in Ireland. He is a civil society leader with extensive experience in Global Citizenship Education and human rights. In his current role with IDEA since 2013, he leads a national network which has engaged with multiple national & international policy processes, created the GENE Award winning Code of Good Practice for Development Education, and built consensus around a shared vision for Global Citizenship Education in Ireland known as Vision 2025. Frank has advocated for civil society and education with the UN, EU, African Union and Irish government. He is a member of the National Steering Group on Education for Sustainable Development in Ireland. He has been involved in starting and developing civil society networks, including Coalition 2030 in Ireland and Bridge 47 internationally. In his previous roles at PEN International he supported PEN Centres in over 70 countries to develop regional networks and programmes for human rights, freedom of expression and civil society. He has also worked in the Arts & Culture sector, including coordinating a national arts programme as Education Manager for the Poetry Society in the UK.
This session will be moderated by:
Feargal O'Connell - CEO Self Help Africa
Feargal O'Connell joined Self Help Africa as its chief executive in April 2023. He has spent nearly two decades in senior roles at non-governmental organisations including Concern Worldwide, the International Rescue Committee and most recently Sightsavers Ireland, where he was CEO. His work has taken him to Cambodia, Democratic Republic of Congo, Chad, South Sudan and Nigeria, while he has also worked for periods in New York and in Ireland. Feargal has developed expertise in risk, crisis and change management through leading programmes on health systems strengthening, climate change and resilience initiatives, as well as front-line emergency response in fragile and conflict settings. He is passionate about ensuring that programme learning, and data is brought to bear in effective policy dialogues that seek to address the fundamental global issues that are driving poverty and vulnerability. Feargal holds a Bachelor of Arts from University College Dublin and a Masters in Conflict, Security and Development from the University of Leeds.

Equitable Partnerships: What does it look like to be a good partner?
During this section of the conference we will examine what needs to be put in place to achieve real equitable partnership in the international development sector. Looking at questions such as How are we managing to build fair and just partnerships? Are some types of partnerships further exacerbating existing power imbalances? and What are the values driving our partnerships? We aim to share new learnings and explore the challenges including sharing risk and accountability with local partners. We are delighted to be joined by the following experts in the area;
Christina Bennett - CEO of the Start Network
Christina has been CEO of the Start Network since 2019. Prior to that she worked at the Humanitarian Policy Group, where Christina led research into local humanitarian action, driving policy initiatives related to counter-terrorism, humanitarian reform, refugee livelihoods and private finance, and is the author of Time to Let go: Remaking Humanitarian Action for the Modern Era. Christina has 20 years of experience in humanitarian policy and practice and prior to joining HPG, Christina was the Chief of Policy Analysis and Innovation at the United Nations Office for the Coordination of Humanitarian Affairs (OCHA). Christina is a frequent writer and speaker on conflict and humanitarian aid, and her work has appeared in The New York Times, Reuters, BBC World Service, TIME, The Economist Intelligence Unit, The New Humanitarian (formerly IRIN) and Devex.
Abdurahman Sharif – Senior Director of Partnerships and Outreach at Internews Europe.
Abdurahman Sharif is Senior Director of Partnerships and Outreach at Internews Europe. He was previously a Senior Special Advisor on Development and International Relations to the Prime Minister of Somalia where he provided high level advisory support as a specialist on Development and International Relations. During this time, Somalia received debt relief from the IMF and the World Bank under the enhanced Heavily Indebted Poor Countries (HIPC) Initiative. Abdurahman was part of the team that successfully negotiated with the World Bank a $137.5 million International Development Association (IDA) grant to help Somalia respond to multiple crises. Abdurahman has also been the Director of the Somalia NGO Consortium, a coordination body for NGOs working in Somalia, and the Executive Director of the Muslim Charities Forum, an umbrella organisation for Muslim-led international NGOs based in the UK.
Michael Mosselmans - Head of Humanitarian Division, Christian Aid
Before Christian Aid, Michael was Co-ordinator of the 'Towards a Safer World' initiative at World Food Programme; Chief of the Pandemic Influenza team at OCHA; and Head of the Conflict Humanitarian and Security, and United Nations and Commonwealth Departments at DFID. Michael is also currently vice-chair of ACT Alliance's Humanitarian Reference Group; on the steering group of Charter for Change; on the Executive Committee of the European NGO Network VOICE; co-chair of the UK branch of United Against Inhumanity; and on the Inter Agency Standing Committee's Operational Policy and Advocacy Group (OPAG).
Mary has over 25 years' experience in the humanitarian sector, working in the fields of humanitarian public health, research and advocacy. Currently Deputy Chief Executive and Director of External Affairs, Mary joined GOAL as Head of Monitoring Evaluation Accountability and Learning in 2013 following 15 years as a senior manager in Ireland's public service. She holds a MSc in Community Health and General Practice from Trinity College Dublin and a MA in International Relations from Dublin City University.
This session will be facilitated by:
Noreen Gumbo - Head of International Programmes in Trócaire
Noreen Gumbo is Head of Humanitarian Programmes at Trócaire. Noreen has had a keen interest in partnership throughout her career, having worked for local and international agencies in Southern Africa for many years. She commissioned research on localisation for Trócaire in 2017 entitled 'More than the Money: Localisation in Practice'. Noreen is currently Deputy Chair of the board of Start Network and serves on the Humanitarian Committee of Caritas Internationalis. She holds an MSc (Agric) in Rural Development from UCD and a Diploma in Development Management from Open University.
We will also have a pre-recorded message from Jan Egeland – Eminent Person of the Grand Bargain, and Secretary General Norwegian Refugee Council
Jan Egeland has been the Secretary General of the Norwegian Refugee Council since August 2013, a role which oversees the work of the humanitarian organisation in over 30 countries affected by conflict and disaster. In June 2021, he was appointed Eminent Person of The Grand Bargain initiative. Within this role he is responsible for promoting and advocating for the advancement of The Grand Bargain's commitments to better serve people in need. It is a two-year position he will hold alongside his day-to-day NRC position.
From January to May 2021, Egeland was appointed by UN Secretary-General, António Guterres, as Chair of the Independent Senior Advisory Panel on humanitarian deconfliction in Syria. In 2015, he was appointed by former UN Secretary General, Ban Ki-moon, as Special Adviser to the UN Special Envoy for Syria. From 2011 to 2013 Jan Egeland served as the European Director at Human Rights Watch. He was appointed Special Adviser to the UN Secretary General for Conflict Prevention and Resolution from 2006 and 2008.
Prior to that, Jan Egeland was UN Under-Secretary-General for Humanitarian Affairs and Emergency Relief Coordinator from 2003 to 2006. In that role he helped reform the global humanitarian response system and organized the international response to the Asian Tsunami, and crises from Darfur to the Democratic Republic of Congo and Lebanon In 2006, Time magazine named Jan Egeland one of the "100 people who shape our world."
Register now for the 2023 Dóchas Conference
Special Offer - Five tickets for the price of four
Members - €240 for five
Non- members - €400 for five
Normal price
Members -€60 per ticket
Non-members - €100 per ticket
Dóchas AGM, 10 am – 12 pm
This session will include Dóchas' statutory AGM business including elections to the Board and applications for new membership. We are also very excited to officially launch our new Guidelines on Ethical Communications. Members only.
Register for your attendance with Anna(at)dochas.ie