Irish Aid Organisations call for action on conflict, climate & hunger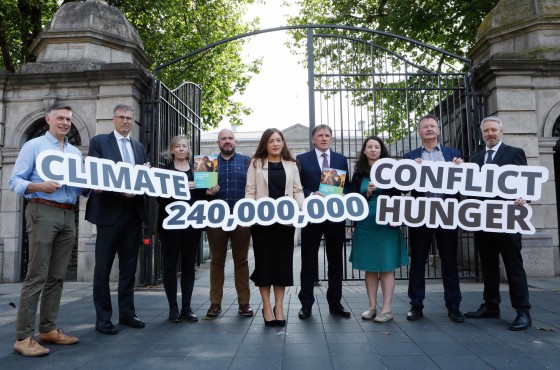 As the gap between humanitarian needs and funding widens, Dóchas updates Oireachtas Committee on the need for action
20 Jun 2023
Irish International NGO's responding to multiple and increasing humanitarian crises across the globe, are witnessing the real and dire consequences of chronic underfunding in sub-Saharan and western Africa. The scale, intensity and duration of global conflict, and the impact of climate change, is driving people into humanitarian crises.
This is according to Dóchas CEO Jane-Ann McKenna, who will appear before the Joint Oireachtas Committee on Foreign Affairs and Defence today, along with international aid organisations Christian Aid Ireland, World Vision Ireland and Concern Worldwide.
In her address, Ms. McKenna is to request an urgent response from the Irish Government. Speaking before the meeting she said "Ireland stepped up to increase funding in response to the spiralling crisis in the Horn of Africa in 2022, and it is vital we do not step back now. However, funding is not the only need. Political will is needed to ensure climate targets are met, conflict is prevented, food systems work for everyone, and those furthest behind are reached."
During her address, Rosamond Bennett, CEO of Christian Ireland will update members on the current situation in Kenya, where she has just returned from. Speaking before the meeting she said "Last week, I spent time in northern Kenya with families who are hungry and are struggling to survive as a result of the worst drought the area has seen in 70 years. I've seen first-hand how their crops have withered and their livestock have died. This devastating impact is repeated in so many countries around the world, where many of the poorest communities are essentially being left behind."
Ms. Bennett continued "Climate change is deepening global inequality further, and as a wealthy country with a hard-earned record as a voice for development and humanitarian action, Ireland has a responsibility to step up and do our fair share of the global effort needed to tackle the climate crisis."
During the session Dóchas will outline their Budget 2024 Recommendations including;
That the Irish Government make real and tangible progress to reach our commitment to spend 0.7% of GNI on ODA by 2030. We must make good on our commitment to spend ODA on those furthest behind in least developed countries and those worst affected by climate change and conflict.
The urgent scale-up of Ireland's humanitarian funding to conflict-affected and fragile states, recognising that funding must be underpinned by policies that contribute to removing the root causes of crises.
That the Irish Government shows leadership through global initiatives to tackle hunger and deepens cooperation across all its departments to achieve our goals on hunger and Sustainable Food Systems (SFS).
Action is taken on climate change at all levels, including delivering on€225m per annum of climate finance committed That Ireland's commitment to implementing the SDGs, both domestically and overseas, the SDGs are hardwired into the planning and budgetary processes across the state.
Commenting before her appearance at the Committee, McKenna added "Hunger and malnutrition are not inevitable. People capable of producing and earning enough food for themselves and their families are being starved – by conflict, climate change, and inequality."