Irish Public Support for Overseas Aid Remains Highl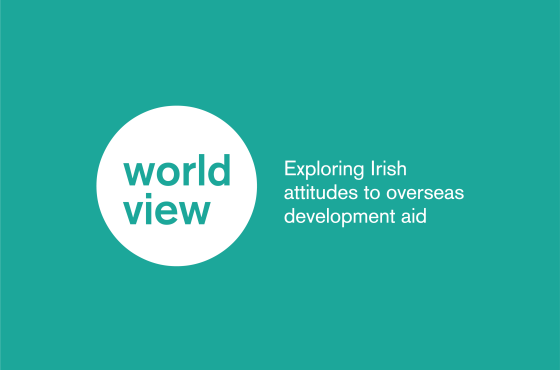 Latest Research findings from Worldview presented today
25 Apr 2023
"It is important to highlight the sustainable positive impact that Ireland and Irish people have on those who are living through conflict, food insecurity and the devastating effect of climate change." - Jane-Ann McKenna
Research findings published today by Dóchas has found that the Irish public's support for overseas development aid remains steady and high at 74%.
According to the latest findings, conducted at the end of 2022 as part of Dóchas' Worldview public engagement research project, almost one third of those surveyed believe that the Irish government should increase the amount of money it spends on overseas development aid. This level has remained consistent over the past three years.
The study also found that the three most important priorities for Irish people in relation to overseas development aid remain access to quality healthcare, education, and clean water.
The study found that confidence in the general economic outlook in Ireland has deteriorated substantially since December 2021, following a brief uptick from February 2021. Despite this, personal support for international development was up, with 50% of people having donated to an international development organisation in the last year.
Speaking at the launch of the latest Worldview findings on Irish attitudes to overseas development aid, Dóchas CEO, Jane-Ann McKenna said that whilst Irish people have always shown incredible solidarity towards the most vulnerable around the world, we cannot take this support for granted.
For more information on the Worldview Project to our dedicated web page.
She said "Today's support levels are still very high, and we have seen this recently in the overwhelming Irish public support for those affected by the food crisis in the Horn of Africa, the war in Ukraine and the earthquake in Turkey and Syria. However, domestic issues, including the cost of living and the housing crises, continue to be at the forefront of people's mind. It is important to highlight the sustainable positive impact that Ireland and Irish people have on those who are living through conflict, food insecurity and the devastating effect of climate change."
Overall the Worldview study findings indicate that there has not been a fundamental shift away from levels of concern with poverty in developing countries or the moral imperative to address such inequalities.