Dóchas Calls for Urgent Action on Conflict, Climate Change, and Hunger at Launch of Pre-Budget Submission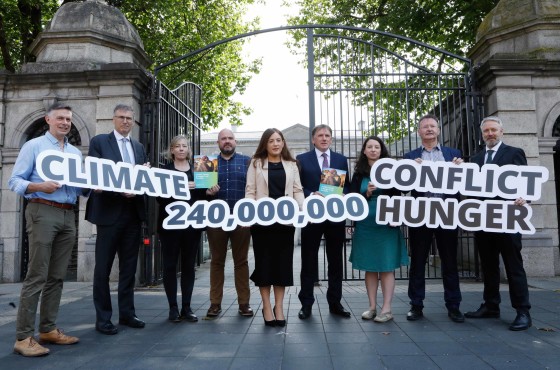 240 million people in 69 countries require urgent humanitarian assistance
13 Jun 2023
"Hunger and malnutrition are not inevitable. People capable of producing and earning enough food for themselves and their families are being starved – by conflict, climate change, and inequality" - Jane-Ann McKenna
Dóchas, the Irish network of international development and humanitarian NGOs, has today launched its pre-budget submission urging the Irish government to tackle the critical issues of conflict, climate change and hunger, which is devastating communities worldwide.
With a staggering 240 million people in 69 countries requiring urgent humanitarian assistance, representatives of several Irish NGO's highlighted the devastating impact of the intensifying conflict in Sudan, the war in Ukraine, and severe food crises in the Horn of Africa and West Africa is having on those who are most vulnerable.
Speaking at an event to mark the launch, CEO of Dóchas Jane-Ann McKenna said, "For International NGO's working in and through local communities and organisations, the magnitude of the multiple crises and the chronic level of underfunding is having real and serious consequences. The gap between rapidly increasing humanitarian need and global funding is widening, forcing impossible choices as to who gets left behind."
Speaking at the event, Goal Global, Concern Worldwide, Trocaire, Oxfam Ireland and Self Help Africa, outlined the key recommendations for government, including the need for increased resources and policy commitments to address these pressing issues and construct a more sustainable and equitable future.
Key Recommendations from Dóchas' pre-budget submission include:
The Irish Government makes real and tangible progress to its longstanding commitment of spending 0.7% of GNI on ODA
Urgently scale up Ireland's humanitarian funding to conflict-affected and fragile states.
Showcase Irish Government leadership through global initiatives to combat hunger and enhance cooperation across all departments to achieve hunger and Sustainable Food Systems goals.
Take comprehensive action on climate change at all levels, including fulfilling the commitment of a minimum of €225m per annum of climate finance, with a view to rapidly increasing this allocation based on the actual needs of low-income countries.
Integrate the SDGs into Ireland's planning and budgetary processes, both domestically and overseas, demonstrating a significant political signal in the country's commitment to implementing the Sustainable Development Goals.
"Hunger and malnutrition are not inevitable. People capable of producing and earning enough food for themselves and their families are being starved – by conflict, climate change, and inequality" added Jane-Ann McKenna, "We appeal to the Irish Government to make real and tangible progress to reach our commitment to spend 0.7% of GNI on ODA by 2030. We must support those who are furthest behind in least developed countries and those worst affected by climate change and conflict."
Image from left to right: John Moffett Misean Cara, David Regan Concern Worldwide, Siobhan Curran Trócaire, Ronan McCay Children in Crossfire, Jane-Ann McKenna Dóchas, Jim Clarken Oxfam Ireland, Karol Balfe Action Aid Ireland, Paul O' Brien Plan International Ireland, Feargal O' Connell Self Help Africa.