The War in Ukraine: Humanitarian law must be upheld and civilians protected.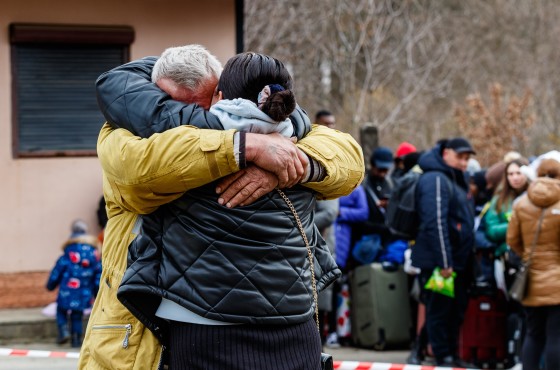 "Safe passage for those willing and able to escape should be urgently assured across war-affected areas inside Ukraine" -Jane-Ann McKenna, CEO, Dóchas
10 Mar 2022
The horrific bombing of a maternity and children's hospital, which killed three people, in the besieged port city of Mariupol adds to an escalation of attacks on healthcare facilities and civilian infrastructure in the past two weeks in Ukraine.
Dóchas, The Irish network of International NGOs, is demanding that all parties to the conflict fulfil their legal obligations and uphold international humanitarian law. Civilians, hospitals and other civilian infrastructure should never be targeted, even during crises and conflicts. The parties must spare the civilian population from military operations and must immediately allow safe passage for people fleeing the fighting.
Speaking in relation to the growing humanitarian crisis, Chief Executive Officer of Dóchas, Jane-Ann McKenna, stated "Very often it is the most vulnerable who have been left behind – the elderly; people with disabilities. All sides must continue to protect civilians and civilian infrastructure under international humanitarian law both for those who choose to leave and those who remain.
Safe passage for those willing and able to escape should be urgently assured across war-affected areas inside Ukraine. This should not be dependent on the existence of humanitarian corridors or ceasefires that may temporarily be in place. It is vital that such opportunities for civilians to escape from areas of violent warfare are not one-off and time-limited offers."
Dóchas supports and welcomes the Irish government's response to this humanitarian catastrophe, including the commitment to welcome refugees to Ireland immediately. We encourage Ireland to use its seat on the UN Security Council to work with its international partners to ensure any and all violations of International Humanitarian Law are investigated and immediately condemned; and the dignity and rights of civilians are protected.
Irish NGOs responding to this crisis
The humanitarian situation inside Ukraine is deteriorating rapidly. Basic services are being cut off and people are sheltering in place in basements and bunkers, many with no water or electricity. Food supplies are running out and the number of casualties is rising. Hospitals are struggling to deal with the rising numbers arriving.
Irish NGOs are on the ground, working directly or with partners in Ukraine and in countries receiving refugees including Poland, Slovakia, Romania and Moldova. They are responding to the immediate needs of people fleeing besieged cities and the threat of violence. Irish people have shown enormous generosity and solidarity to the people of Ukraine through their donations over the past two weeks. It is vital that as this crisis continues, Irish people continue to show that immense support to ensure NGOs can respond to the escalating needs on the ground.