Turkey-Syria Earthquake – Irish Humanitarian organisaitons are responding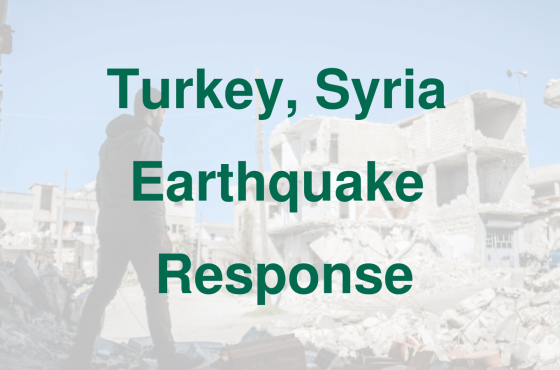 Irish humanitarian aid organisations are scaling up their emergency response
07 Feb 2023
Irish humanitarian aid organisations are scaling up their emergency response in Southern Turkey and North west Syria as the death toll from the devastating earthquake exceeds 5,000 people. The World Health Organisation (WHO) are expecting the number of fatalities to increase substantially in the coming days.
Dóchas, the Irish network for international development and humanitarian organisations, is gravely concerned about those who remain trapped, and whose homes and communities have been destroyed.
Speaking about the level of devastation and ongoing humanitarian crisis, Jane-Ann McKenna, Dóchas CEO said 'Temperatures in the region are below zero overnight. People are trapped, and many have been left without shelter, or cut off from basic supplies. Local facilities are overwhelmed, and there is an urgent need for food, water, temporary shelter, clothes, blankets, hygiene and sanitary products, and medical items. It is vital that these supplies are delivered as quickly as possible and to those who need them most."
Irish Aid organisations are particularly concerned about the most vulnerable - the elderly, children and people with disabilities who are facing stormy and snowy weather conditions and cold temperatures.
The following Irish aid organisations that have launched emergency appeals to support the relief effort;
Christian Aid Ireland
Concern Worldwide
Goal
Irish Red Cross
Oxfam Ireland
Trócaire
UNICEF
World Vision Ireland
Further information can be found on the Earthquake response page.