Worldview Results Webinar
05 Apr 2022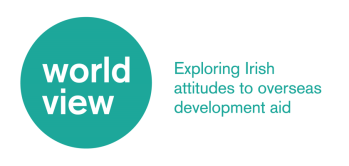 Join us on Tuesday, 5 April from 2pm-4pm for our 2nd annual Worldview Results Webinar.
The session will unveil findings from the Worldview 2nd annual tracker survey, which targeted 2k Irish adults to discern their current beliefs and motivations towards overseas aid. We will also include analysis on message testing, which was incorporated into the latest survey to understand how messages are resonating/landing with the Irish public.
Award-winning journalist and photographer, Sally Hayden will join us to talk about her experience working in journalism and writing stories that engage the public. We will also be joined by colleagues from GOAL and ActionAid Ireland, who will share their reflections on the Worldview findings and talk about the value of the research to their public engagement work.
Together, we will unpack and explore what the Worldview findings mean for the sector and the implications they will have on how we communicate, engage and fundraise with the Irish public.
Please register your attendance here by 25 March.
For more information, contact niamh(at)dochas.ie