Dóchas Informs Minister of Immediate Need to scale up funding for Overseas Aid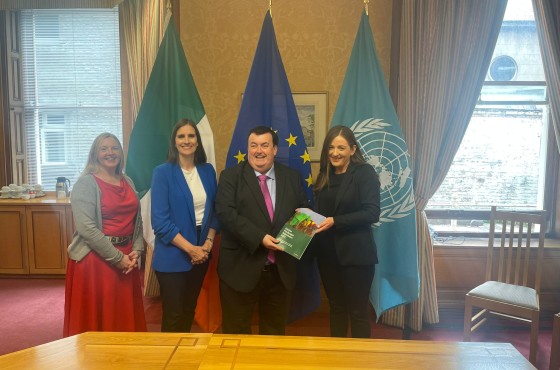 12 Jul 2022
Dóchas and its members today met with Minister Colm Brophy TD, Minister of State with responsibility for Overseas Development Aid and Diaspora, to discuss the escalating humanitarian crisis in the Horn of Africa, the impact of climate change on the global south and the need for Ireland to scale up its support for those who need it most.
Speaking with the Minister about the Dóchas Pre-Budget submission, CEO Jane-Ann McKenna, warned that "the impact of the war in Ukraine is making a dire humanitarian situation worse. In light of increasing costs, widespread drought and the multiple impacts of the war, an increase in development assistance is needed to simply stand still."
She added "It is imperative that Ireland upholds its commitment to overseas aid, and the most vulnerable in our world. Real progress is needed to reach the Government commitment of 0.7% of GNI by 2030."
Ms. McKenna was joined by Dóchas' newly appointed Chairperson Sarah O'Toole and Christian Aid Ireland CEO Rosamond Bennett, who has just returned from the Horn of Africa.
Speaking about her visit, Ms. Bennett said "I've seen for myself the impact that the worst drought in 40 years is having on people in the Horn of Africa. Four failed rainy reasons in a row have caused harvests to fail and valuable livestock to die in staggering numbers. The region is on the frontline of the climate crisis and families I met in northern Kenya are being pushed to the brink."
She added "Aid is needed urgently to help prevent widespread famine and save lives. We need to increase investment in sustainable food systems and climate adaptation, and move away from a global system that leaves poorer countries over reliant on imports."
Dóchas' Pre-Budget submission has outlined five recommendations for the Government in the run up to Budget 2023;
Increase investment in least developed countries and fragile states to ensure universal human rights and minimum standards are being fulfilled, including access to food, water and healthcare.
Make real progress on meeting the commitment to spending 0.7% of GNI on ODA by 2030.
Increase investment and support to civil society organisations, particularly women's organisations, who are working directly with affected communities at local, regional and national levels.
Increase predictable, multi-year, unrestricted, flexible and discretionary funding to ensure timely and effective responsiveness to changes in contexts and environments.
Invest in long term sustainable solutions to tackle the effects of climate change, including making a fair contribution to climate financing and implementing a national climate action plan.
Rounding off a productive meeting with Mr. Brophy Ms. McKenna said "Ireland's active and continued leadership on the global stage can continue to positively influence and progress key issues including humanitarian access in conflict-affected states, the women, peace and security agenda, and climate adaptation, as well as to tackle the structural causes of conflict, climate change and hunger."